Regionals & Nationals
We are seeking bids for the 2017 Western Regional Championships.  If you are interested in hosting the Regionals, please contact your local councilperson or EVP.
2016 REGIONAL CHAMPIONSHIPS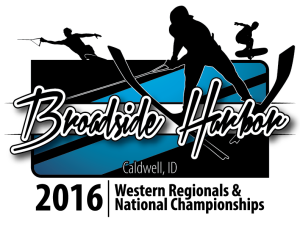 2016 – Broadside Harbor, Caldwell, ID
If you mailed in your entry, rather than entering online, please check Registration Status to make sure it was received.
Entry Qualifications:
Level 5 ranking in all divisions.
Level 4 ranking in Overall divisions.
Skiers must be a competitive member of USA-WS a US citizen and qualified to ski in the Western Region per rule 4.03(3). Note – Scores from collegiate class C and above can be used for qualification.
NATIONAL CHAMPIONSHIPS
2016 – Broadside Harbor, Caldwell, ID